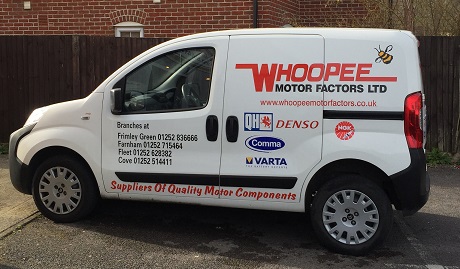 Whoopee Motor Factors – For all your car parts and auto spares.
Our depots stock a wide range of auto spares, car parts and accessories for most makes and models of cars including specialist parts for collector cars and classic models.
We deliver these parts between stores and depots and for those with a trade account, direct to their premises, or place of repair.
We can also supply a full range of car accessories, car care products, such as polishes and paints, interior kit and body repair products.
Car Spares & Auto Parts held in stock at WHOOPEE
Call today for the cheapest prices, or use our online form to get a quote, or place an order.
Brake System Parts & Spares
Brake discs, brake pads, brake callipers, brake drums, brake shoes, brake cables, brake fitting kits, brake hydraulics (master cylinders, wheel cylinders, brake hoses, brake pipes) brake light switches,
Steering & Suspension Parts & Spares
Track rod ends, suspension ball joints, wishbones, manual & power steering racks, stabiliser links, king pin sets, drag links, suspension kits, suspension bushes, steering rack boot kits, top strut mounts & bearings, shock absorbers, road springs,
Transmission Parts & Spares
Clutch kits, clutch cover assemblies, clutch driven plates, clutch release bearings, clutch cables, clutch master & slave cylinders, drive shafts, universal joints, C.V. joints, C.V. boot kits, wheel bearings and kits, propshafts, oil seals,
Engine Components
Gaskets, head bolts, pistons & piston ring sets, big end shells, thrust washers & main bearings shells, inlet & exhaust valves, valve seals, valve springs, timing belts, tensioners & timing belt kits, timing chains, engine mountings,
Auto Electrics
Alternators, starters and dynamos, alternator belts, solenoids, batteries (car, truck & motorcycle), battery cable, horns, relays, wiring & electrical terminals, fuses, battery chargers, jump leads, flasher units, washer pumps, reverse light switches,
Ignition System Parts & Spares
Coils & coil packs, ignition modules, distributors, H.T.lead & lead sets, distributor caps, contact sets, condensers, rotor arms, spark & diesel glow plugs,
Cooling System Parts & Spares
Radiators, water pumps, fan switches, thermostats, thermostat kits, radiator caps, fan belts, hose clips, temperature switches & sensors
Engine Ancillaries & Service Parts & Spares
Oil filters, air filters, cabin filters, pollen filters, fuel filters, fuel pumps, fuel line, oxygen (lambda) sensors, engine management sensors, oil pressure switches & sensors, air duct hose, oil seals,
Lubricants / Oils
Mobil 1, Comma, Morris
Lighting System Parts, Spares & Bulbs
Bulbs & sealed beam units, light units, lighting cable, fuses, relays, terminals,
Stockists for:
Comma Oils & Chemicals, Mobil 1, Morris Lubricants, Holts, Hammerite, Plastic Padding, Draper Tools, Jack Sealey Tools, Sykes Pickavant Tools, Deb Chemicals, Wynns, STP, Haynes Manuals, Summit Mirror Glasses, Securon Seat Belts, Autoglym, Varta Batteries, Quinton Hazell, Tork Wiping Clothes, Barseal, Payen, FAI, Wix, Denso, Sovereign,
General Auto Accessories
Polishes, polishing cloths, wiper blades, number plates, cable ties, workshop gloves, oil absorbent granules, aerosol paints, finishing paper, emery cloth, production paper, antifreeze & de-icer, workshop ancillaries, fuel cans, jerry cans, petrol locking caps, tow bars, roof racks
Garage Equipment
Jack Sealey, Sykes Pickavant, Draper Tools, Jacks, Ramps, Hoists, Axle Stands
Non-stock Auto Parts & Accessories
We can order in almost any auto part that is commercially available as well as a range of standard items for same day and next day delivery such as: –
Exhaust systems, Catalytic converters, Auto panels, Wheels, Turbochargers, Original manufacturer parts
Specialist Parts & Classic Car Spares
We still stock many parts, spares and accessories for classic car models. In many cases we have them on the shelf at our depots, or we have access through specialist suppliers and makers and can generally obtain what you are looking for.
We make every effort to track down specialist parts – if we can't get what you are looking for it is doubtful anyone else will either.